Starters

Served on a bed of salad  with garlic mayo
Soup of the day

Lemon & Pepper salmon bites
Salmon pieces coated in a lemon and pepper crumb served on a bed of salad
Natchos

With cheese, salsa, sour cream and guacomole
Add Chilli for extra £1.50
Vegetable Spring rolls

Bean sprout, carrot, beans & potato, flavoured with
Chicken Goujons

Choice of hot and spicy or Southern fried chicken
£3.99 each or 3 for £10

Jacket Potato

Choose from Cheese, Ham, Beans, Tuna, Chilli, Tuna melt.
Choose from Cheese, Cheese & Ham, Cheese & Tuna, Cheese & Onion
All served with Chips and Salad
Grilled Holloumi and sweet chilli wrap
Served with Chips or Salad
£5.99
Southen Fried Chicken and mayo wrap
Served with Chips or Salad
Platters

Choose from Chicken Fajiatas or chilli tacos served with cheese, salad, salsa and nachos
For 1 £8.99

For 2 £14.99

Southern fried or hot and spicy chicken, served with onion rings, breaded mushrooms, ribs, wedges and garlic bread
Mains
2 Chicken breasts, Served with a choice of potato and salad
Lasagne
Beef or Vegetable lasagne served with garlic bread, chips and salad
Battered Cod
Served with chips, garden or mushy peas and tartare sauce
Served with Chips, Corn on the cob and onion rings
Trio of Sausage
Pork, Cumberland and Pork & Leek, Served with Chips or Mash and peas
£6.99

Burgers
1/4 lb beef burger £6.99
Breaded Chicken Burger £6.99

Veggie burger £6.99
All burgers served in a bun with chips and salad

Liver and Onions
Liver in an onion gravy, Served with mash and peas
Cottage Pie

Served with fresh vegtables
£6.99

      Chicken brest and half a rack of ribs, Served with chips, corn on a cob and onion rings
£9.99

Chicken or Vegetable curry, Served with rice and naan bread
Homecooked Ham, Served with Egg, chips and peas
£5.99
Wholetail Scampi, Served with Chips, Garden or Mushy peas and Tartare Sauce
£7.99

Chilli Con Carne

A Rich sauce inspired by 

south american cuisien, Served with rice and nachos
Spaghetti Bolognaise
Spaghetti pasta served in a meaty and rich Bolognese sause,
Served with Garlic bread          
£6.99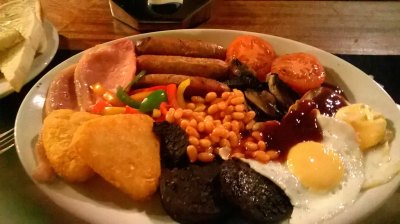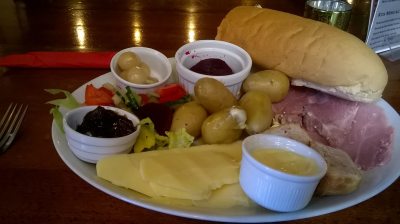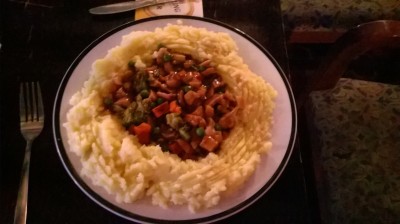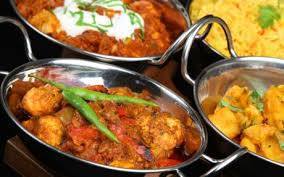 Chips £2.49                                                       

                                      Cheesy Chips £2.99

                              Chips and Curry sauce £2.99

                                         Onion Rings £2.99

                                         Garlic Bread £2.99

                                            Side salad £2.99

                

Selection of Vegetables £2.99
                                 Wedges £2.99

                                    Cheese .80p

                                   Bacon £1.20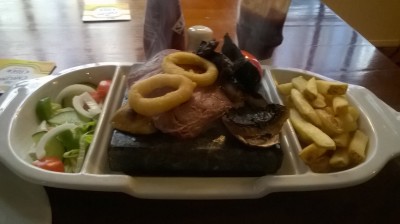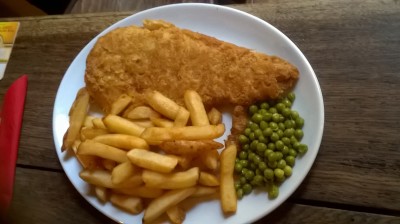 Our famous Black rock grill is also available, please see menu below...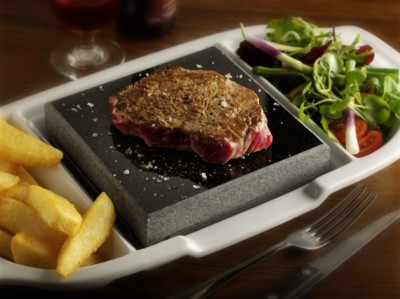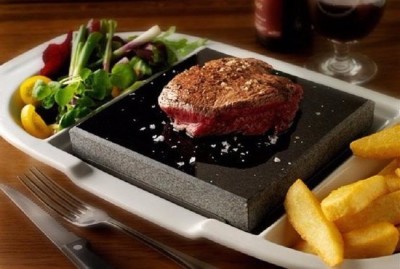 Welcome to a new dining experiance! Our unique system allows you to cook your meal just the way you like it at your table. So much fun it'll have you coming back for more!


 Surf and Turf 
4oz Fillet with 4 King Prawns 
 Meat 8oz 
Rump, 2 x Sausage, Half Rack of Ribs, Chicken Breast
 6oz Water Buffalo Rump

 4oz Kangaroo Filet

 King Prawns

All served with Chips, Salad, Mushrooms, Totato and Onion Rings

 Alternatives to Salad

 Corn on the Cob or Mixed vegtables Extra £1.00

 Alternatives to Chips

 Jkt Potato, Lattice Fries or Rice            Extra £1.00

 Dips

 BBQ Glaze, JD Honey Glaze, Sweet Chilli, Piri Piri, Lemon and Herb,
 Mint Youghurt, Salsa                                   £1.00 each

 Rubs

 Garlic/Coriander, Garlic/Mixed Herbs, Garlic/Rosemary, Cajun,
 Lemon Dill, Paprika/Chilli, Chinese Five Spice
​

​

£9.99

£14.99

£15.99

£13.99

£11.99

£8.99

£12.99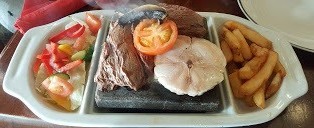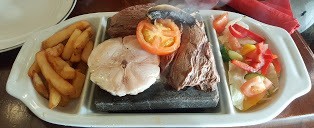 For advanced bookings please use the options on